EXQUISITE  PHOTOGRAPHY,

​ 
DOCUMENTING
THE 

MOMENTS

 

THAT

 
MATTER MOST.

 
M

​aui​

 

​Wedding

 

​&​

 E

​ngagement

 
P​hotographer 

Extraordinaire,​
​Specializing in ​

Elopements, Honeymoon Adventures & Family Gatherings
Proudly Honing my Craft, Creating great experiences & Stunning Imagery for more then two decades
"When I saw you I fell in Love

,
and you smiled because you knew it!"
                                            ~ William Shakespeare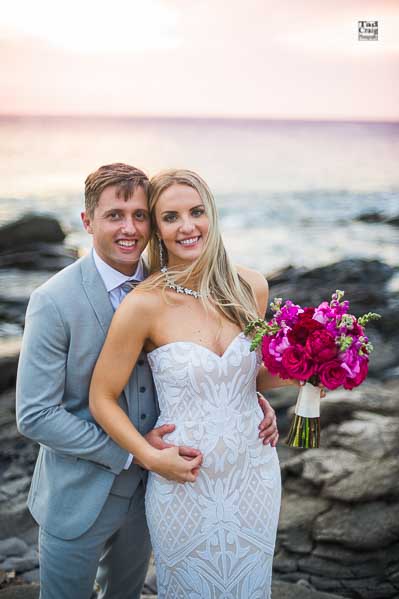 "EXCEEDING EXPECTATIONS WITH AN AMAZING EXPERIENCE,
GORGEOUS IMAGERY, and
BACKED BY QUALITY SERVICE IS MY MISSION!"
Maui Wedding Photographer Extraordinaire
Thank you so much for stopping by. I'm Tad, an explorer of Beauty, Light & Love Celebrating more then two decades as a Romance Photographer here in Maui Hawaii.
I love capturing those moments that truly reflect the love & connection that two people feel. True Romance! My style is creating; bold, vibrant, colorful imagery & has that timeless quality. Creating imagery with a dab of fashion & an abundance of emotion is what I love doing. Searching constantly for candid natural moments by being ready & easily connecting with my clients with a warm, friendly, professional approach. Using a variety of creative techniques refined from years of experience & top of the line gear! Sometimes relying on natural lighting & other times using off camera lighting to enhance the scene & situation. Love getting creative & making imagery that is meaningful as it stunning!
Arriving on time, well dressed, totally prepared & ready to shoot with tons of enthusiasm & energy is my passion!
Yes I believe that love is love and I love photographing All couples regardless of race, gender, or sexual preferences.
CREATING AMAZING EXPERIENCES,
GORGEOUS IMAGERY
and
Backing it with Excellent Service
is my Promise!
Magical Tree House Wedding
Read 130+ Five Star Reviews on theknot.com
Alex Lianne and I can't thank Tad Craig enough for photographing our wedding at the Hyatt Regency in Maui! He truly did a remarkable job. Last summer, my (now) wife, Alex Lianne and I debated for weeks whether to get a professional photographer or fly in a semi-professional friend to shoot our destination wedding in Maui.  We quickly discovered that he checked all the boxes that we were looking for. What further impressed me was when we contacted him, he was quick to schedule a meeting to get a feel for what we were looking for, which turned into a Facetime call.  On the day of the wedding, Tad really did a great job in maximizing the time we had with him while keeping everyone calm, comfortable, and focused. Thank you Tad for making this special day extra memorable
Well Carissa and I can't say enough about how we loved having Tad at our wedding. It was such an amazing experience have someone who is so dedicated to the profession and has amazing eye for details. I would recommend Tad to anybody anywhere anytime if you want an A+ experience,yeah! Thank you Tad For capturing such a special memory Carrissa and I are so happy with we chose you!
Tad Craig shot our beautiful wedding at the White Orchid Beach House in Maui and we can't say enough positive things about his work! He was so professional, very personable, and made us feel comfortable in front of the camera. In addition to that, we got all the shots we wanted and more! The teaser photos we received or beyond amazing, as he knows exactly how to capture the moment, the emotion, and the beautiful scenery just perfectly! We can't thank him enough for our photos! Don't look any further if you're trying to find the perfect photographer for your wedding cause he is it!
Tad was our photographer for our special day! He was recommended by our friends in San Jose, CA when we told them we were getting married in Maui. They too got married and Maui and had Tad as their photographer. I am so glad he was recommended to us because he was so nice and professional! He made me feel at ease and did such a great job capturing our special moments throughout the day. My absolute favorite pictures from Tad are his portraits with the beautiful scenery! If it wasn't for my husband getting sick from his sun burn, we would have got into our get ups again after the wedding to take more picture on the beach and his famous picture on the rocks with beautiful sunsets! Those picture of his are breath taking and speak to me and give me all the feels! All in all, Tad and his assistant Marie Claude were great, and we would highly recommend them. Also, the process of booking Tad and his online payment system made things so much easier! Thanks Tad! Mr. and Mrs. Epperson
Meet Tad Craig Married, Family Man & Athlete
~Hawaii Best Wedding Photographer Extraordinaire~Luxury Weddings~ ~Epic Elopements~Surprise Engagements~Couple shoots~Adventure Sessions~Spontaneous Moments~ Family Gatherings~ Birthday Parties & Corporate Events~
P.O. Box 791996, Paia Hi 96779       808-283-0617
tad@tadcraigphotography.com
Copyright Tad Craig Photography | 2022